Skyhawk is one of the best thrill rides located at Cedar Point. It is located at Sandusky, Ohio. The saying of the ride is: "Its like your backyard swingset, only ours is bigger."
Experience.
Edit

Riders walk onto one of the two double sided swings. The swings start to move in opposite directions, swaying slowly back and forth then eventully getting hight enough to an almost upside-down state. Eventully the swings lose their momentum and become perfectly still.
Photo Gallery.
Edit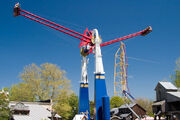 Ad blocker interference detected!
Wikia is a free-to-use site that makes money from advertising. We have a modified experience for viewers using ad blockers

Wikia is not accessible if you've made further modifications. Remove the custom ad blocker rule(s) and the page will load as expected.